Utdrag fra Statholderarkivet Jordebøker 1624-26
Extract from the Register of Allodial Farm Owners 1624-26
D IX Jordebøker til utlikning av rossteneste
B Akershus len Pakke 8 XXII


10a Bragenes - Røgenn Sogenn
År


Year

Eier -

Owner

Biografi -

Biography

Kilde -

Source


Stattholderarkivets jordebøker 1624-26

1624

Hanns Sundbye
Bjørgulf Oppegaard
Hans far
< 1580 - ~1617
Røgenn Sogenn, folio 567
Adels- og odelsjordebøker fra 1624 for Røgenn Sogenn i Bragenes.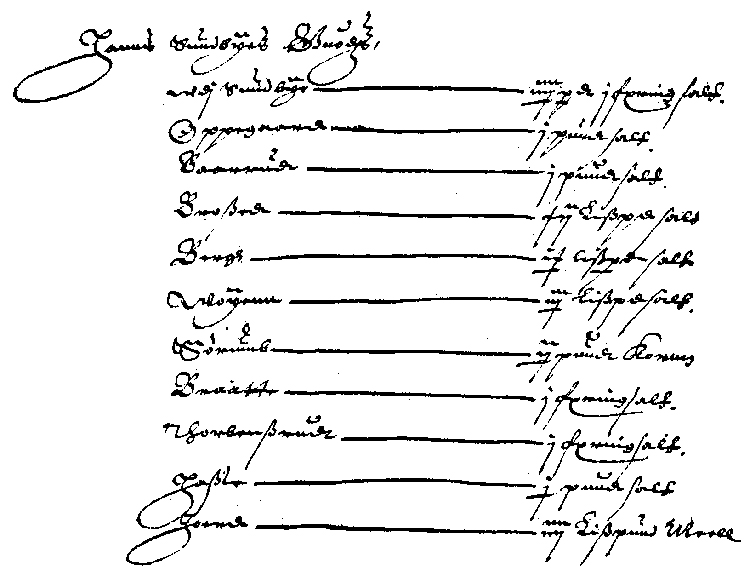 Røgenn Sogenn.
Jordeigendis Bønder.

Hanns Sundbyes Guods
wdj Sundbye - 3½ pd 1 færing salt.
Oppegaard - 1 pund salt.
Baarrud - 1 pund salt
Broßedt - 12 lißpd salt.
Bergh - 8½ lißpd salt.
Woyenn - 2½ lißpd salt.
Sørumb - 1½ pund Korrn
Braatte - 1 færing salt.
Thorbenßrud - 1 færing salt.
Haßle - ½ pund salt
Joerd - 4 Lißpund Meell.
---
Om du har kommet til denne siden uten at det er en oversiktsramme til venstre,
vennligst TRYKK HER for å komme til min hovedside.
If you have entered this page without a Menu Bar Frame on the left of the screen,
please PRESS HERE to get to my main page.